7.3 The Series for Bensberg Castle
Jan Weenix worked for the court of the Elector Prince Johann Wilhelm von der Pfalz (1658-1716) in Düsseldorf between 1702 and 1716 to create a series of decorative wall pieces for the Prince's Bensberg Castle, overlooking the Rhine valley near Düsseldorf. The estate was remodeled from 1705 onward by the Venetian architect Matteo Giovanni Alberti (1647-1735), who transformed it into a German Versailles for the Prince's hunting purposes. The design can be seen in Jan Baptist Jongelinx' bird's eye view engraving of 1705 [12]. Bensberg today is a luxury hotel and has changed much over the years; nothing of the Weenix-decorated rooms has remained [13].

Weenix' contact with the Düsseldorf Court dates from slightly later than his fellow Dutch painter Adriaen van der Werff (1659 -1722) who was appointed to the same court and is known to have been overall rewarded for his efforts. It may be that Jan Weenix and van der Werff's paths crossed on occasion, but today the only common denominator known with certainty is that in 1716 both of their projects ended abruptly when the Elector Prince died, his treasury depleted.1 No contract for his Hunting Cycle or correspondence between Weenix and the Court has been traced, and there is no record of the frequency of travel between Amsterdam and Düsseldorf, although we may assume that several journeys were necessary.

Horst Gerson, who called the series the 'best decorative wall paintings made in Holland', noted that Weenix received over 3,000 Thaler (3,239) for 15 wall paintings in 1705, when he was 'one third through the commission' to decorate the walls of the hunting lodge.2 Does this mean that Jan Weenix was commissioned to paint 45 works? There is no such documentary evidence. Jan Weenix likely prepared the canvases in Amsterdam, where he had enough studio space, having the neighboring house available, because the Palace renovations had not been completed and he could not paint them in situ. The paintings were created in Amsterdam, then he transported them, literally as a 'master of mobility', and touched them up on location. Like tapestries of the day the Bensberg paintings covered the walls with illusionistic views of wide landscapes.

The paintings did not remain in place long; during the Seven Coalition Wars with France (1792-1815) with France, Bensberg served as a hospital and in 1795 the paintings were removed and brought to Munich. They are now in the Bavarian State Picture Collection. The 12 paintings in the Bensberg series that remain are immense in scale, most of them measuring over three meters in height, with varying widths. The 1712 piece alone measures about 3 ½ by 5 ½ meters and is installed for space reasons, high up on the walls in the Alte Pinakothek in Munich [14].

A manuscript kept in the Munich museum library deals with the subjects and distribution of the paintings in three palace rooms. According to the document the paintings for one room were finished in 1712, 1714 and 1716.3 The large-scale works do not smoothly and pictorially line up in a continuous narrative may be due to an 'accidental' resizing of the canvases. When the French invaded Germany, the paintings were hastily cut from the stretchers and stored for safekeeping. There is, however, the overall theme of the hunt, and the consistencies in the landscapes, show specific domains of the patron.

These large paintings have been rolled up and kept in storage since about the 1950s and have not been seen nor photographed since. The Game on a Parapet near a Seaport with Mercury Statue of 1714 [15] refers to the prince's mercantile connections and the treasures brought from afar. The southern landscapes and harbor views recall his wife's Tuscan homeland.4

The painting called 'Halali', a term derived from a bugle call announcing the end of the hunt, measures over 3 by 4 ½ meters [16]. It shows some old traces of conservation to prevent paint loss. Recently a small oil sketch for this painting was found in a private collection [17]. It is a rare example of a preparatory sketch in oil by Jan Weenix. It is very close to this Bensberg painting, though in reverse.5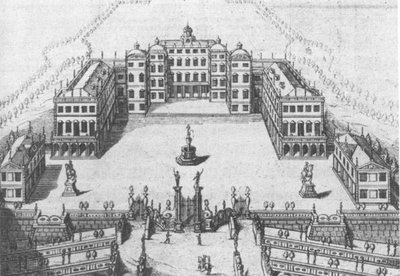 12
Jan Baptist Jongelinx
View of the Bensberg Castle, 1705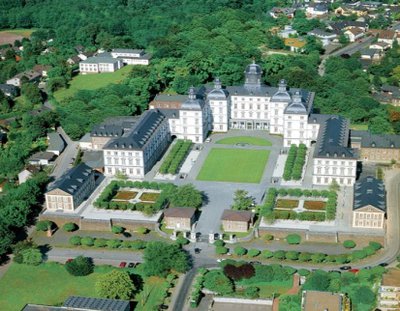 13
Grand Hotel Schloss Bensberg today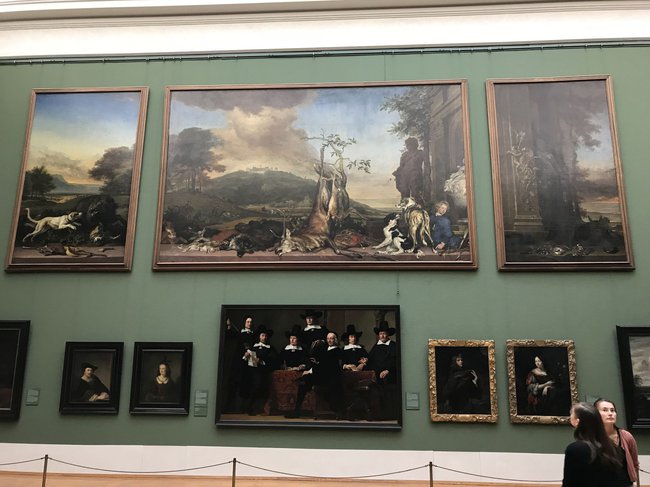 14
Room IX in the Alte Pinakothek, Munich, 2017
15
Jan Weenix
Game on a parapet near a seaport, dated 1714
canvas, oil paint 320 x 549 cm
lower left : J Weenix f 1714
Munich, Alte Pinakothek, inv./cat.nr. 1730

---
16
Jan Weenix
The deer hunt
canvas, oil paint 318 x 458 cm
Munich, Alte Pinakothek, inv./cat.nr. 1728

17
Jan Weenix
The deer hunt (Halali)
paper on linen, oil paint 18,9 x 26,5 cm
lower center : J. Weenix
Private collection

---
18
Jan Weenix
EelectorJohann Wilhelm von der Pfalz and his wife Anna Maria Luisa de'Medici on a deer hunt on the Rhine in a caouflage boat, dated 1714
canvas, oil paint 278 x 438 cm
Munich, Alte Pinakothek, inv./cat.nr. 4979

19
Jan Weenix
EelectorJohann Wilhelm von der Pfalz and his wife Anna Maria Luisa de'Medici on a deer hunt on the Rhine in a caouflage boat, c. 1714
paper, red chalk 187 x 322 mm
upper center : dit stuk is Geschildert voor d'Keurvorst van de Pals door J. Wenings
Leiden, Prentenkabinet van de Universiteit (Leiden), inv./cat.nr. PK-T-AW-1260

---
Other paintings depict landscapes that relate to very specific topography in the area; The Elector Prince Johann Wilhelm von der Pfalz and his wife Anna Maria Luisa de' Medici on a Deer Hunt on the Rhine in a in Camouflage Boat on the river depicts the area of a bend in the Rhine at Grimlinghausen bei Neuss [18]. A preliminary drawing in red chalk for this painting is in the Print Cabinet in Leiden [19].

For years the Dutch still life genre made many and varied references to the transitoriness of life. In the Bensberg cycle Weenix created decorative works combined with metaphysical or transcendental contents that former Munich Curator Peter Eikemeier called the 'Plethora of Life'.6 Weenix documents the world of the Prince as a ruler in an absolute era and the glorification of his claim to lordship. The wealth of life's bounty is at his feet; he is lord over the life and death of creation, nature is subject to his pleasures, even faraway countries deliver treasures over the seas. The statue of Hercules in the Landscape with Bensberg Castle is an allusion to the Elector Prince himself, as a Hercules Palatinus. The prince is to be viewed as Lord on earth. This constellation becomes clear in the Bensberg ceiling painting of the Prince's wife in the Apotheoses of Anna Maria Luisa in which she is welcomed to heaven by the goddesses Minerva and Diana [20]. The Prince's counterpart would have been the (now lost) painting of Johann Wilhelm, Apollo and Hercules.

Finally, the set of the Bensberg paintings, so large in scale and excellent in quality, were delivered to the Court and installed over an audience room and two ante rooms in the southern wing of the Castle. Reconstruction of the settings has been difficult, if not impossible, because, first, the rooms at Bensberg have been altered over the years, and secondly because some paintings have been cut from their original sizes. There is overall uncertainty over the number of commissioned pieces, as we have seen, a number of 45 has been suggested. Today there are 12 known paintings, with two lost over the years. But Weenix actually made 18 paintings – or perhaps more. When the Prince died, the funding for the project ended. Four paintings were never delivered. We learn this from an advertisement in a 14 August 1737 newspaper in The Hague for an Amsterdam sale, where they are erroneously listed as by his father Jan Baptist Weenix. Mentioned are 'four Capital pieces for wall coverings of a room, formerly painted for the Elector Prince von der Pfaltz, in his best time, being three pieces depicting a wild Horse Hunt, of which two pieces are wide seventeen feet [518 cm wide], and one piece six feet wide [183 cm wide]; and a garden view with a company making music, wide seventeen feet and high thirteen feet [reversed, high 396 x 518 cm wide]'.7 The measurements listed are similar to the ones delivered to the Palace. The outcome of the sale is not known, and the paintings may have been unsellable because of their extremely large dimensions and would hardly have fit in other locations. Perhaps they were reduced in size by a buyer, or otherwise dispersed.

In conclusion, the Bensberg painting series can be viewed as a moving Baroque culmination in Jan Weenix' career and, in Goethe's words, 'he surpassed nature'. He never made a quality concession to size. Central is the Hunting Still Life with Bensberg Castle in which the Schloss is enthroned on a hill as a distant vision, crowning the landscape like a seat of the gods [21].
20
Jan Weenix
Apotheose of Maria Anna Luisa de' Medici, between 1710-1716
canvas, oil paint 228 x 342,5 cm
Munich, Alte Pinakothek

21
Jan Weenix
Hunting still life with a landscape and Bensberg Castle, dated 1712
canvas, oil paint 345 x 561,5 cm
lower right : J Weenix f. 1712
Munich, Alte Pinakothek, inv./cat.nr. 776

---
Notes
1 The same goes for other (all Netherlandish) court artists of Johann Wilhelm: Jan Frans van Douven (1656-1727), Herman van der Mijn (1684-1741), Jan van Nickelen (1655/56-1721), Rachel Ruysch (1664-1750) and Anton Schoonjans (1655-1726). Gerson/Van Leeuwen et al. 2017-2018, § 3.4.
2 Gerson 1942/1983, p. 249.
3 Eikemeier 1978.
4 Van Wagenberg-ter Hoeven 2018A, p. 57.
5 Van Wagenberg-ter Hoeven 2018A, p. 390-391, no. 267, ill.
6 Eikemeier 1978.
7 Haagsche Courant, Maendag den 1 July 1737. Daniel Adr. Beuckelaer, Makelaer, zal op Woensdag den 14 August 1737, te Amsterdam in 't Oudezijds Heerenlogement verkopen een extra fraay Cabinet schildereyn, van beroemde Meesters, waer in onder andere Uytmunten een Kerstnagt van Rafael d'Urbino, mitsgaders 4 Kapitale stukken tot behanging van een Zael, eertijds voor de Keurvorst van de Paltz Geschildert door Jan Baptist Weenix, in zijn beste tijd, zijnde 3 stukken verbeeldende wilde Paerden vangst of Jachten, waer van twee stukken breed zijn 17 voet [518 cm wide], en 1 stuk 6 voet [183 cm wide]; nog een Tuyn gezigt waerin een gezelschap Musiceert breed 17 voet en hoog 13 voet [518 wide x 396 high or, reversed high 396 x 518 wide cm]. Van Zuiden 1941.