14.1 Heimbach's Biography
Wolfgang Heimbach was born around 1613 in Ovelgönne, a small town near the court in Oldenburg.1 His father served as a local administrator to Count Anton Günther of Oldenburg (1583-1667). So far, no document about Heimbach's apprenticeship has surfaced, but there is no reason to doubt the first biographical information about Heimbach in the description of the County of Oldenburg (1671) by Johann Just Winkelmann (1620-1699). He claimed that Heimbach was trained by a (local?) painter before traveling to the Netherlands. As this text is the only contemporary source about his stay in the Netherlands, I quote it here (in translation):

'… Wolfgang Heimbach, born in Ovelgönne and mute and deaf by nature, was sent to a painter [to learn] in his youth with the recommendation of the Count, because of his inclination towards the arts. He had traveled to the Netherlands and also to Italy, where he stayed for 12 years. He was held in high esteem by the pope, cardinals and other noblemen because of his highly laudable art, which he could prove with documents and letters. Finally he had returned home to his sovereign at court. At present he is a man of 50 years old. He is very contemplative and observingly, grasping someone's opinion by watching the eyes and mouth and by other signs, and to respond in turn. He also understands words written to him by a finger and clearly makes understood the names of countries, again with the finger. Thus, the highest God returned to this painter what nature had taken from him'.2

This biographical sketch of 1663 points out three aspects. First, Heimbach traveled to the Netherlands and later to Italy. Secondly, Winkelmann does not give any details about his years in the Netherlands, in contrast to his Italian period. Winkelmann stresses that Heimbach was highly appreciated by the Roman Catholic Church and the Italian Nobility. Finally, the largest part of this biographical sketch deals with Heimbach's handicap and the fact that he, nevertheless, was able to communicate with other people at a high level.

As mentioned above, his stay in the Netherlands is not supported by any documentary material, but, looking at some of Heimbach's early works, the influence of painters like Pieter Codde (1599-1678) and Willem Duyster (1599-1635) is clearly visible; some paintings are almost literal copies.3 Other painters, like Willem Buytewech (159/2-1624) , Anthonie Palamedesz. (1602-1673) or Frans (1582/3-1666) and Dirck Hals (1591-1656), played an important role in the development of Heimbach's style as well. His trip to the Netherlands probably took place in the late 1620s or early 1630s.4

By 1636 at the latest he was back in Germany, where he painted an Interior Scene with a Noble Festivity which is interestingly signed and dated: 'CWHB fecit / Ovelgönne, / Anno. 1636. / Bremen, / ao. 1637', indicating that the work was started in Heimbach's hometown Ovelgönne and finished in Bremen the following year [2]. How long he stayed in Ovelgönne and Bremen is not clear, but by 1640-1642 he was working for Archduke Leopold in Vienna, judging from two works which today are preserved in the Kunsthistorisches Museum [3-4]. From Austria he went south to Italy, where he painted for several noble families, such as the Borghese, Pamphilii and Medici. A Portrait of a Noble Family signed and dated 1644 with the Castel Sant Elmo in the background indicates that he was in Naples [5]. From 1645 dates a Portrait of Pope Innocence X (1574-1655) [6]. Heimbach is mentioned in the service of Prince Ottavio Piccolomini (1599-1656) in Nachod (Bohemia) in 1651. In the same year he lived in Prague in the house of Andrea Conti. From Bohemia he travelled back to his hometown, planning to make stopovers in Nuremberg and Brussels, as he wrote in a letter. In 1652 he was court painter to Count Anton Günther (1583-1667) in Oldenburg. For the nine works he painted there he was paid 200 Reichstaler, which demonstrates both the capacity of Heimbach's output and his appraisal.5

In 1653 he was in Copenhagen in Denmark serving King Frederik III, where he eventually stayed for nearly ten years. Interestingly, this fact was not mentioned by Winkelmann, who wrote his biographical sketch in the very year that Heimbach returned home, although he must have been aware of it. After Heimbach's return to Oldenburg / Ovelgönne he worked for Count Anton Günther again and for other clients. After the death of Anton Günther in 1667, he returned to Denmark but failed to regain the King's favour. Finally he entered into the service of Prince Bishop Bernard von Galen in Münster and Coesfeld. He probably died shortly after 1678.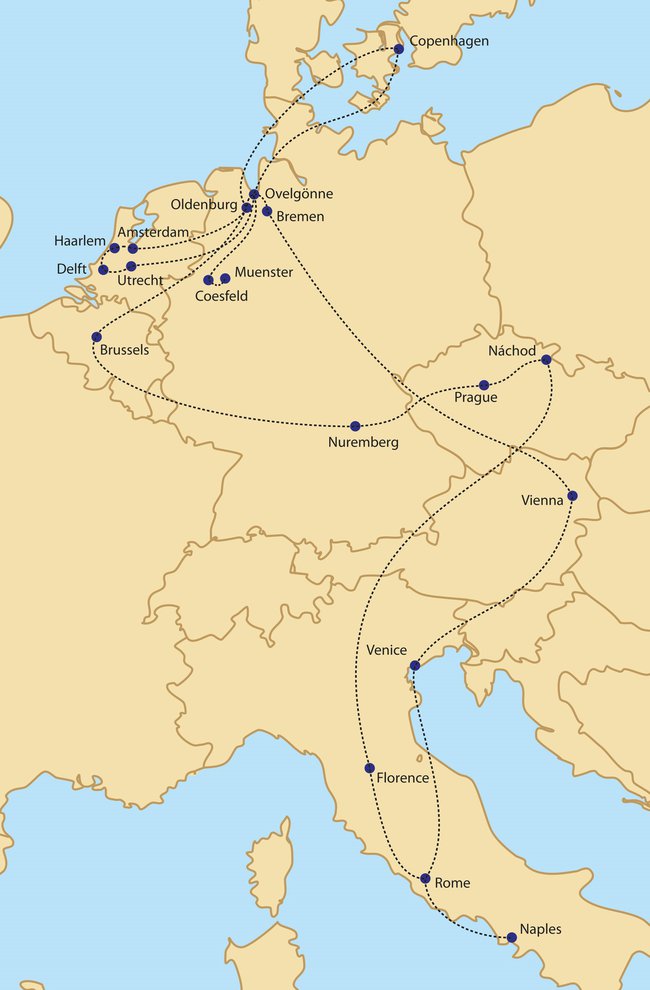 1
Mobility of Wolfgang Heimbach
Image: Justus Lange, 2017
2
Wolfgang Heimbach
Elegant company, dated 1636 and 1637
copper, oil paint 29,5 x 39,8 cm
right : CWHB fecit/Övelgönne,/Anno. 1636./Bremen,/ao. 1637
Bremen, Kunsthalle Bremen, inv./cat.nr. 39-1908/19

3
Wolfgang Heimbach
Banquet by night, dated 1640
copper, oil paint 66 x 144 cm
lower left : W H P 1640
Vienna, Kunsthistorisches Museum, inv./cat.nr. 1619

4
Wolfgang Heimbach
Portrait of Archduke Leopold Wilhelm (1614-1662) of Austria, Governor of the Spanish Netherlands from 1647 to 1657, dated 1642
copper, oil paint 31,7 x 22,8 cm
lower left : WH 1642
Vienna, Kunsthistorisches Museum, inv./cat.nr. 9820-1642

5
Wolfgang Heimbach
Portrait of a noble family with Castello di Sant Elmo in the distance, dated 16[4]4
copper, oil paint 25 x 30 cm
right : WHB 16[4])4
London, art dealer Rafael Valls Limited

6
Wolfgang Heimbach
Portrait of Pope Innocent X (1574-1655), dated 1645
copper, oil paint 14,9 x 11,5 cm
left : H P. f W 1645
Copenhagen, SMK - National Gallery of Denmark, inv./cat.nr. KMS1642

---